VirtualHere EasyFind is a built-in VPN subscription service allowing you to access your USB devices connected to your VirtualHere server from anywhere! You dont need to worry about configuring any network details to connect to your VirtualHere USB Server from outside your network
Configuring port forwarding, dynamic DNS, remembering TCP port & IP addresses are a thing of the past!
1. Connect to the VirtualHere server with any VirtualHere client on the local network or same computer. Right click on the Hub and select Properties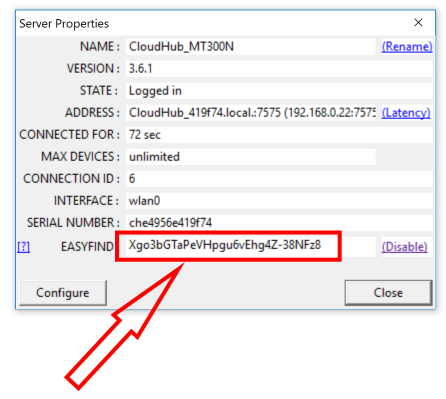 2. On the EasyFind line, click Enable (then Subscribe if you havent already - there is a free trial for 7 days). Copy the Easyfind address shown and email it to your remote client.
3. EasyFind uses just a simple textual address that you enter into the remote VirtualHere Client. Right click on USB Hubs->Specify Hubs ->Add and enter in the EasyFind address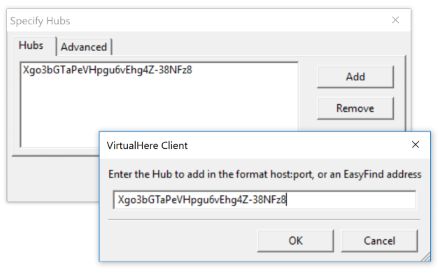 Within about 10-20 seconds, the client will automatically find and connect to the VirtualHere Server running on your network behind a NAT. EasyFind is fast and doesn't use relay servers - the connection is direct between client and server to provide the least latency. Finding and connecting to a VirtualHere Server usually takes less than 10 seconds
The VirtualHere Server and Client can both be behind a NAT or over a mobile network (Carrier Grade NAT).

Click here for the EasyFind FAQ
VirtualHere EasyFind works with almost all network topologies and requires no network configuration. There is a FREE trial to see if its useful for your use-case.